COMMITMENT & GUARANTEE
Total commitment combined with sound and shared values. It's you, it's us.
The keystone of a committed and responsible mural art workshop can be defined in one word : human.
Inspired by the mindset of the great Italian and Flemish workshops, Métamorphoze likes to think of itself as a craft company dedicated to the art of craftsmanship with an ambitious project. There's no secret to progress in this delicate art, it is essential to share a high level of requirement and values beforehand.
Métamorphoze's secret : 17 years of experience in the most demanding and visible art form possible. This means that it's the most exposed to criticism, and it must be anticipated. With all the open-mindedness required to take these criticisms into account. A culture of the public necessarily results from it, which quickly turns into cultures of the public.
With a common set of enduring values, Métamorphoze has developed a special strength and desire to move forward faster and with greater vision. We serve as both encouragers and gatekeepers for each other.

CREATIVITY : benefit from a genuine ingenuity
The communicating message must be adapted to each project given that each organization or company is unique. Our main goal, based on the constraints and possibilities of the medium, is always the same : to design a singular, attractive AND exceptional wall art. One of the major assets of our workshop is our team's imagination. Their freedom and unconventionality ensure a greater character and personality to our clients' projects. All the while respecting the identity of their facility. Our designers know what a brand image and positioning are.

CUSTOM-MADE BY CRAFTSMEN: the ability to adapt to the ideas and vice versa
Creating an innovative artistic project is a way to enhance and differentiate oneself. And what is true for a company is also true for a state, a city, a club, an institution. Yet, beyond the implementation of universal monumentalist magic, it is impossible to use one and the same approach to meet all of our customers' needs. Our workshop is filled with artists who are inevitably devoted to unique artworks. Our visual poets have found in this requirement of customization a perfect alibi to invest in a specific creation for each project. For them, it is enough to "do as they like". It is enough to do "as art". All the better! And bravo for this self-managed emulation.

PROXIMITY : essential !
To provide an exemplary relational quality and a steady exchange, our workshop is fully and collectively involved. We are totally committed to your projects. Given our international calling, we offer a very French touch working space to our clients in Paris, Strasbourg, or Lausanne.

ACCESSIBILITY : art and signage for all
When people are aware that being valid is an asset, it seems normal for disability to be an ongoing concern.
PERFECTLY ENGINEERED
An "haute couture" art workshop
We benefit from an exceptional graphic platform located 15 km south of Strasbourg, on the banks of the Ill river. We have an artistic laboratory, a writing space, a multicultural approach, and an open mind.
100% French manufacturing workshop, paint preparation, cutting machine, large format printing, professional adhesive, our know-how is known as an art craft.
The world is our playground. Equipped, mobile, world travelers, we deliver 100% of our projects. Our profiles? Always designers, painters, street artists with a high-level art culture.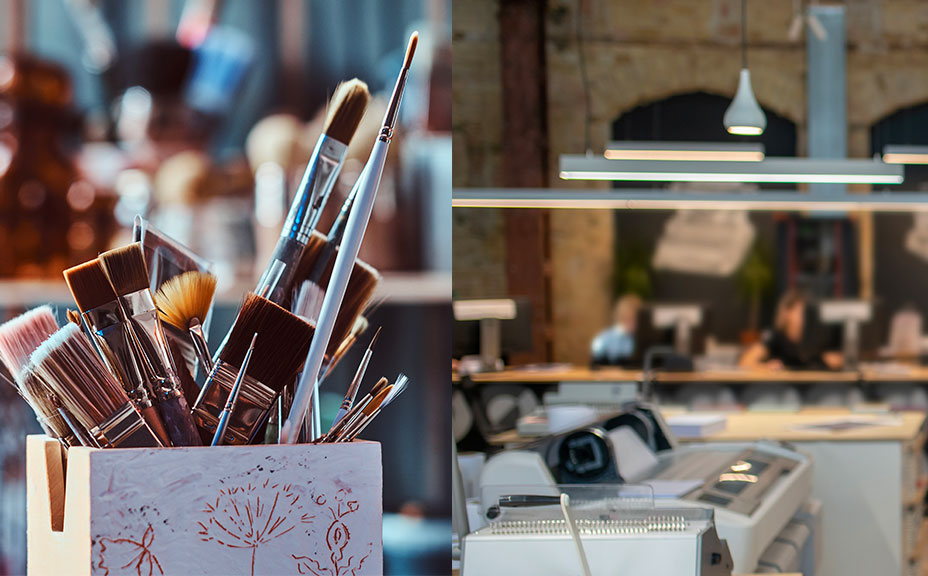 FRANCK BLERIOT
More than 250 works and a globe-trotting poet painter
who reveals the secret of your spaces.
Franck Blériot and the Métamorphoze mural art workshop have gained rare exposure and reputation among many professionals in the architecture, decoration and building industries.



Together
Questions?
We are here to help you.